Congratulations, Mr. O'Hare, our most outstanding staff member! Colleagues of O'hare say, "Seth goes above and beyond in providing kids with opportunities that engage them in hands-on learning that promotes real-life skill development while getting them excited to be at school." McKenzie is lucky to have you! Join us in congratulating Mr. O'Hare!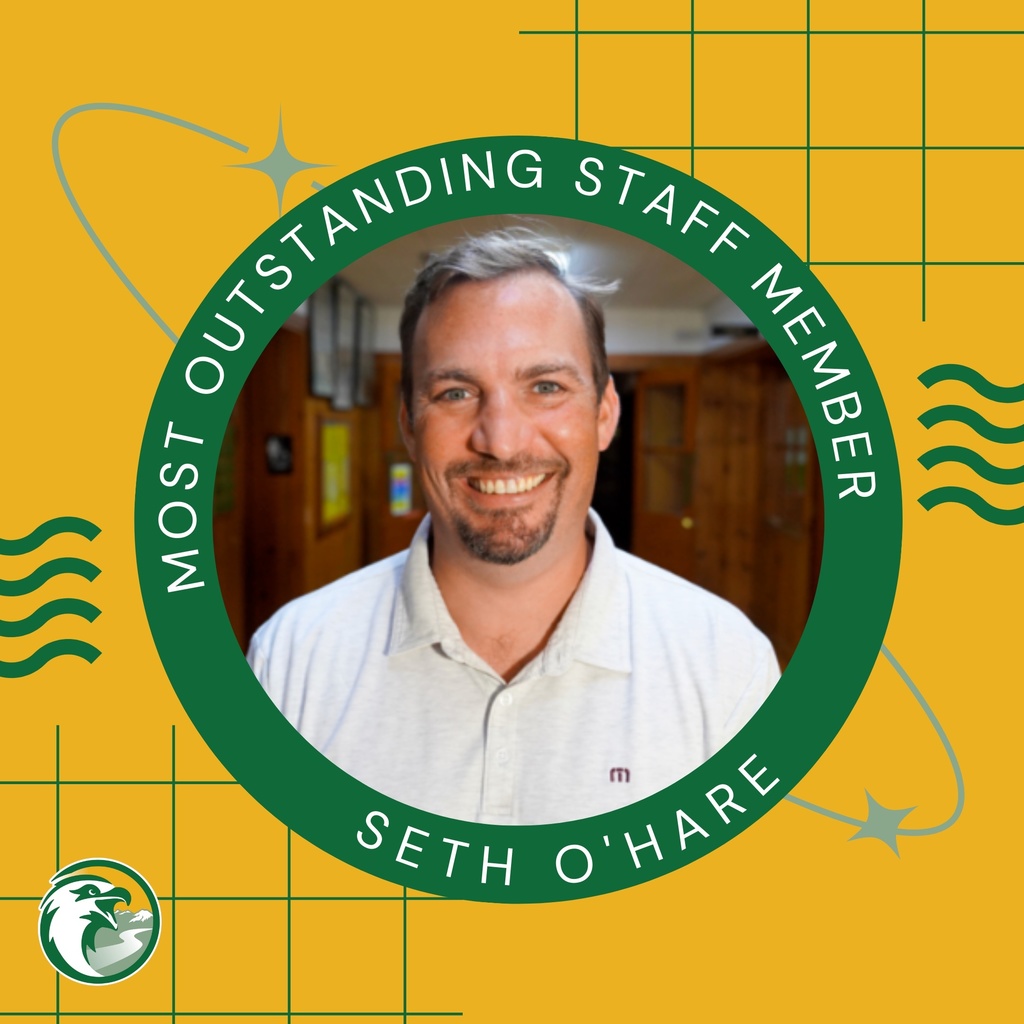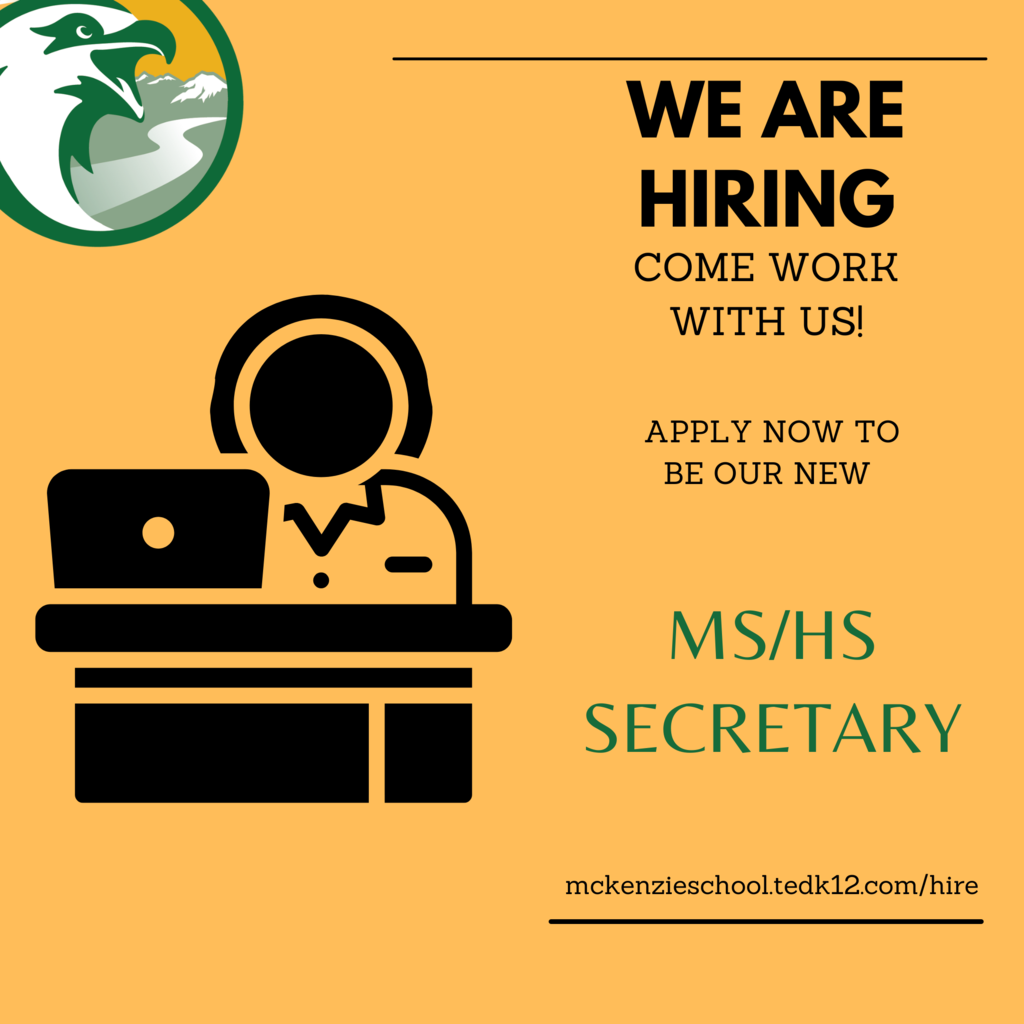 Hello MRCS: We will need to COMBINE the DOWN RIVER routes this afternoon. Please follow head to the website if you need to look up the time,
https://www.mckenziesd.org/page/transportation
, scroll down to Combined Route. Thank you.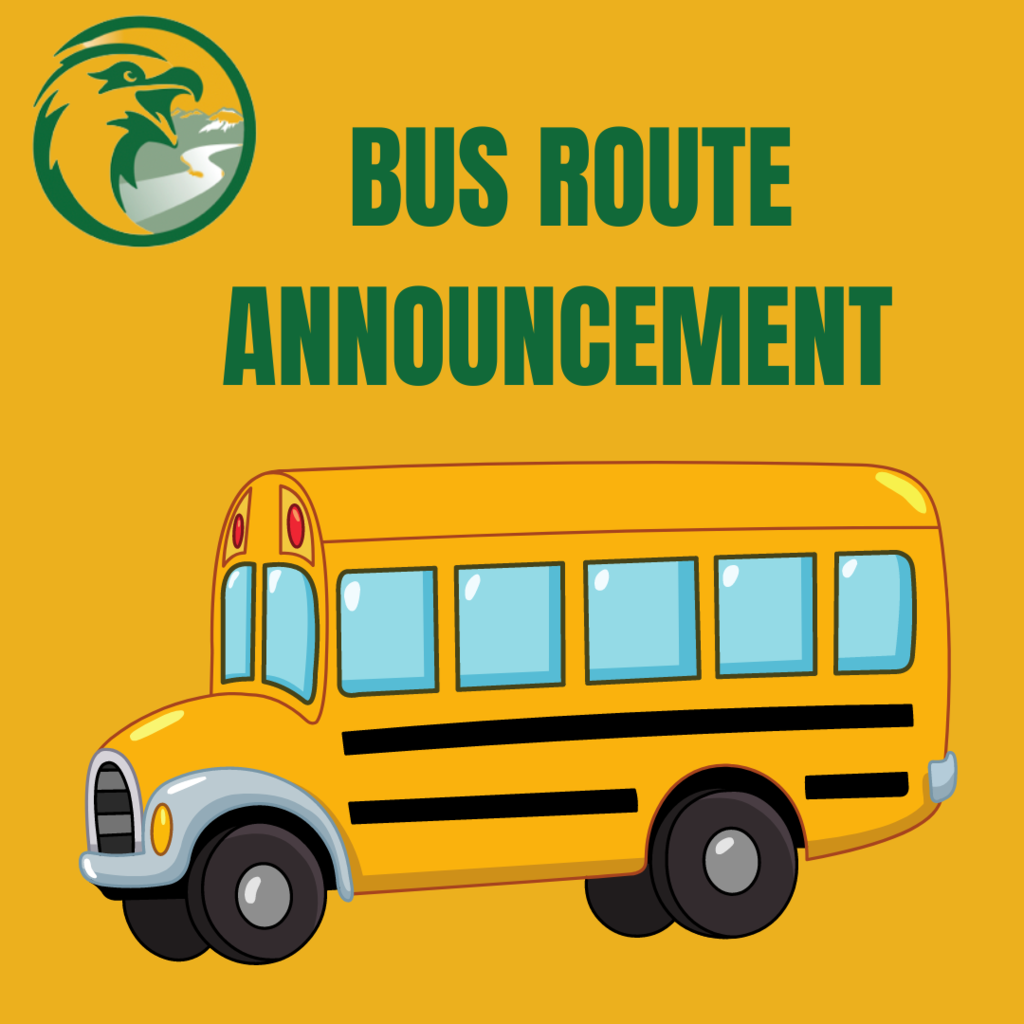 Tuesday 2/17 HS Basketball @ Siletz Dismiss at 1:15 Leave @ 1:30pm Thursday 2/19 HS Basketball vs. Crow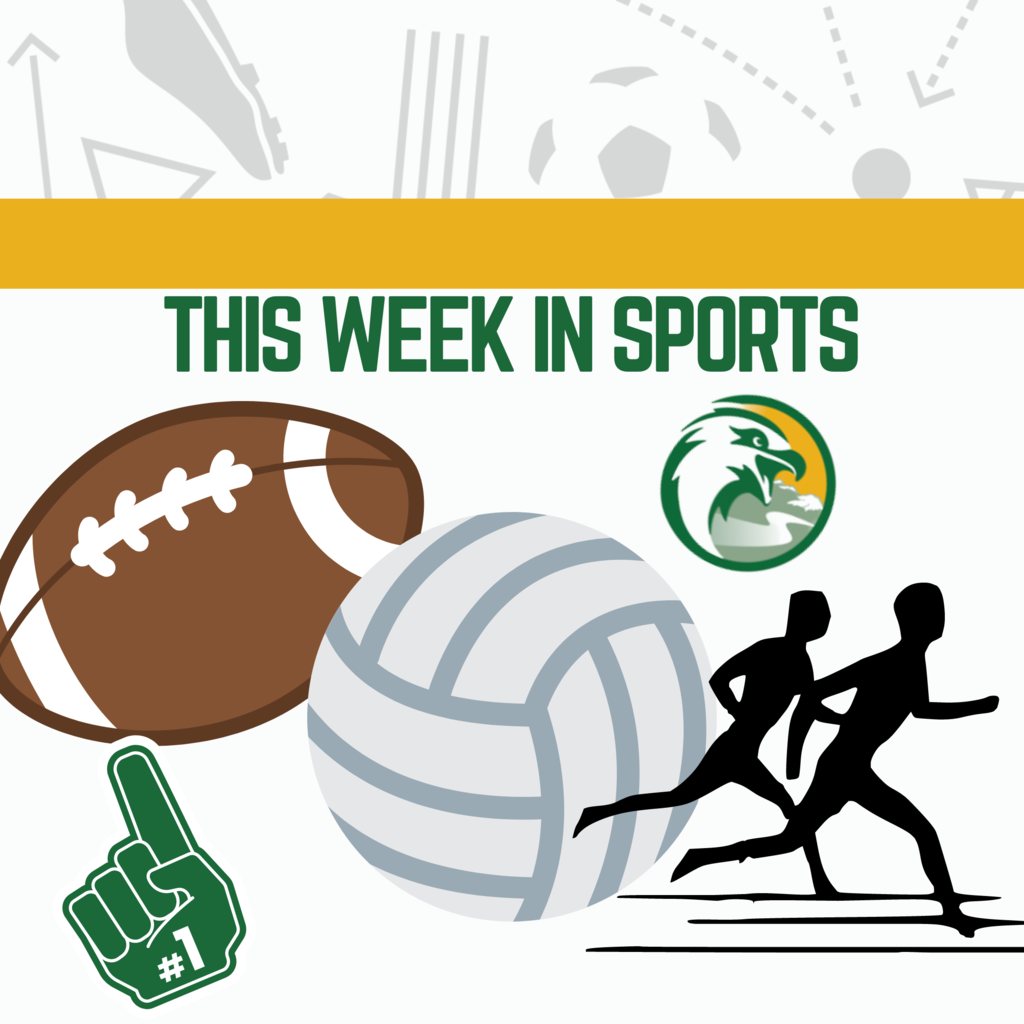 Teacher Spotlight! Our school has so many great teachers and staff members. Ms. Christensen has been teaching for seven years. One of her favorite classes to teach is the Leadership class. "Teaching Leadership as an elective this year has allowed us to bridge our middle/high student leadership program to the elementary grades. The leadership class and ASB officers had been working directly with elementary students to implement a K-12 leadership program. It's been fun to watch the students work together and see the elementary students advocating for their classes," says Ms. Christensen. Help us spotlight these valued members of our team by adding your comments below! Do you have a special story about Ms. Christensen?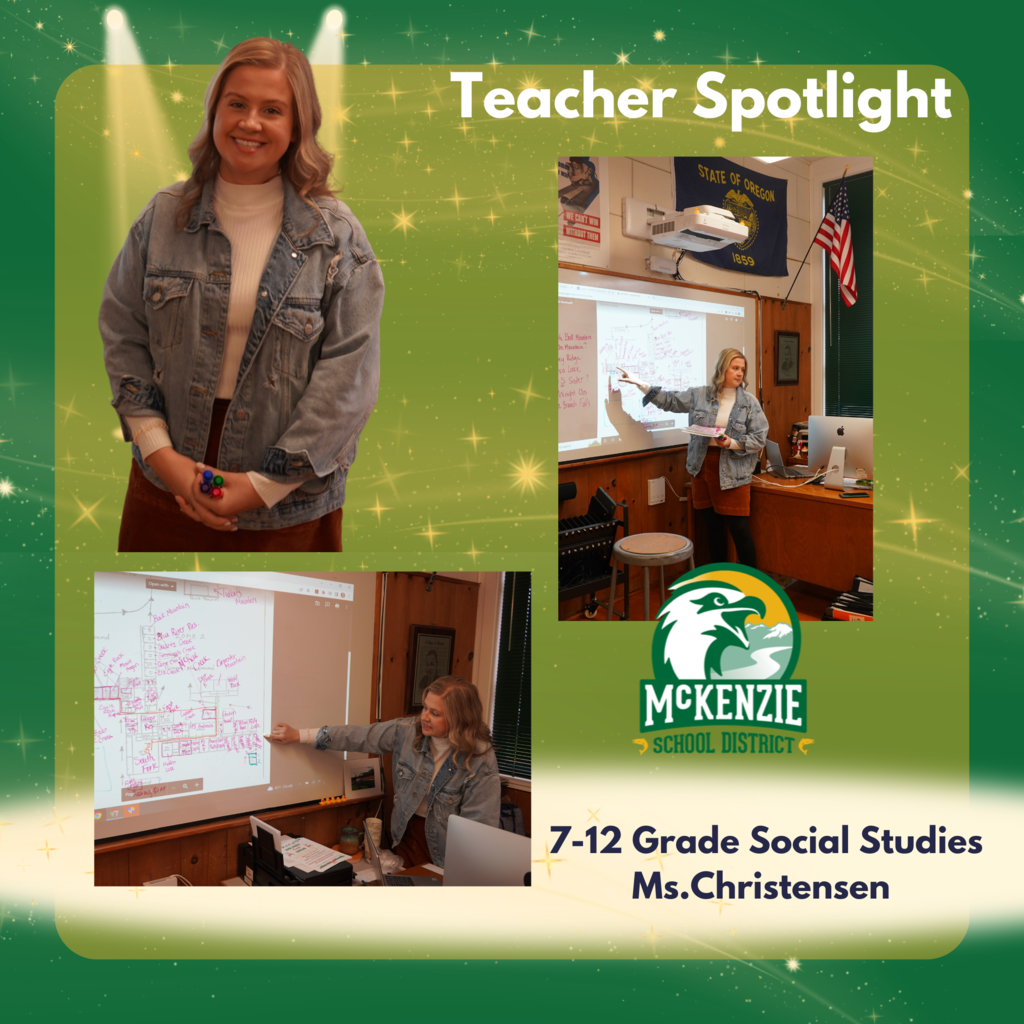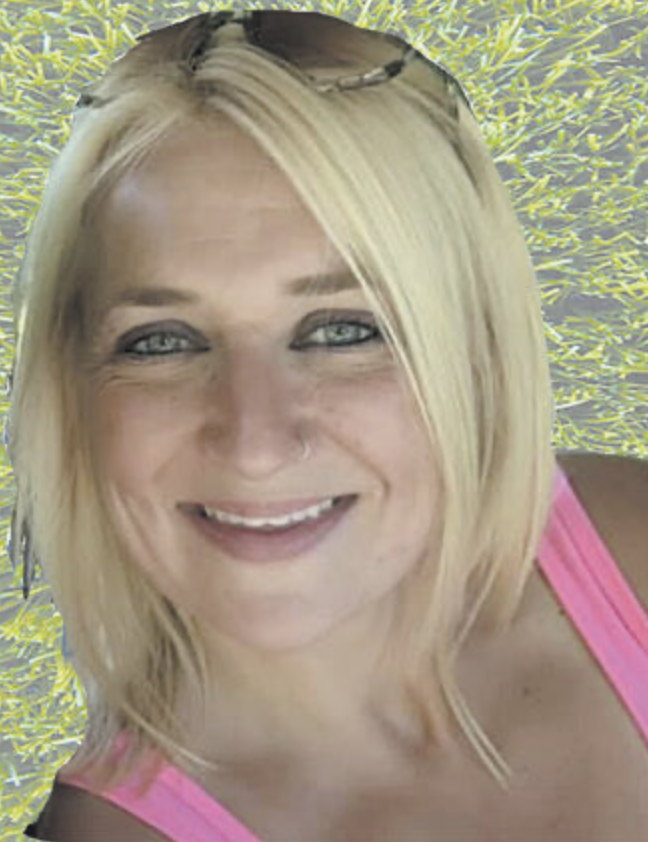 ​​This week's Sports! Monday 1/9MSBB @ Siletz dismiss @ 12:15, leave @ 12:30 Boys @ 4pm, Girls @ 5:30pm Tuesday 1/10 HS Boys Basketball Only @ Gilchrist Dismiss @ 1:30 pm Leave @ 1:45 pm Game @ 5:30 pm Thursday 1/12 vs Alsea No HS Girls All games will be played in the New Gym MSBB Boys dismiss @ 215 pm / Game @ 3:30 pm MSBB Girls dismiss @ 3 pm / Game @ 5:00 pm HSBB Boys No Early Release - 1 Qtr JV @ 6:30 pm / Varsity Game @ 7:00 pm Friday 1/13 HSBB @ Mohawk Leave @ 3:30 pm Boys @ 5: 30 pm Girls @ 7:00 pm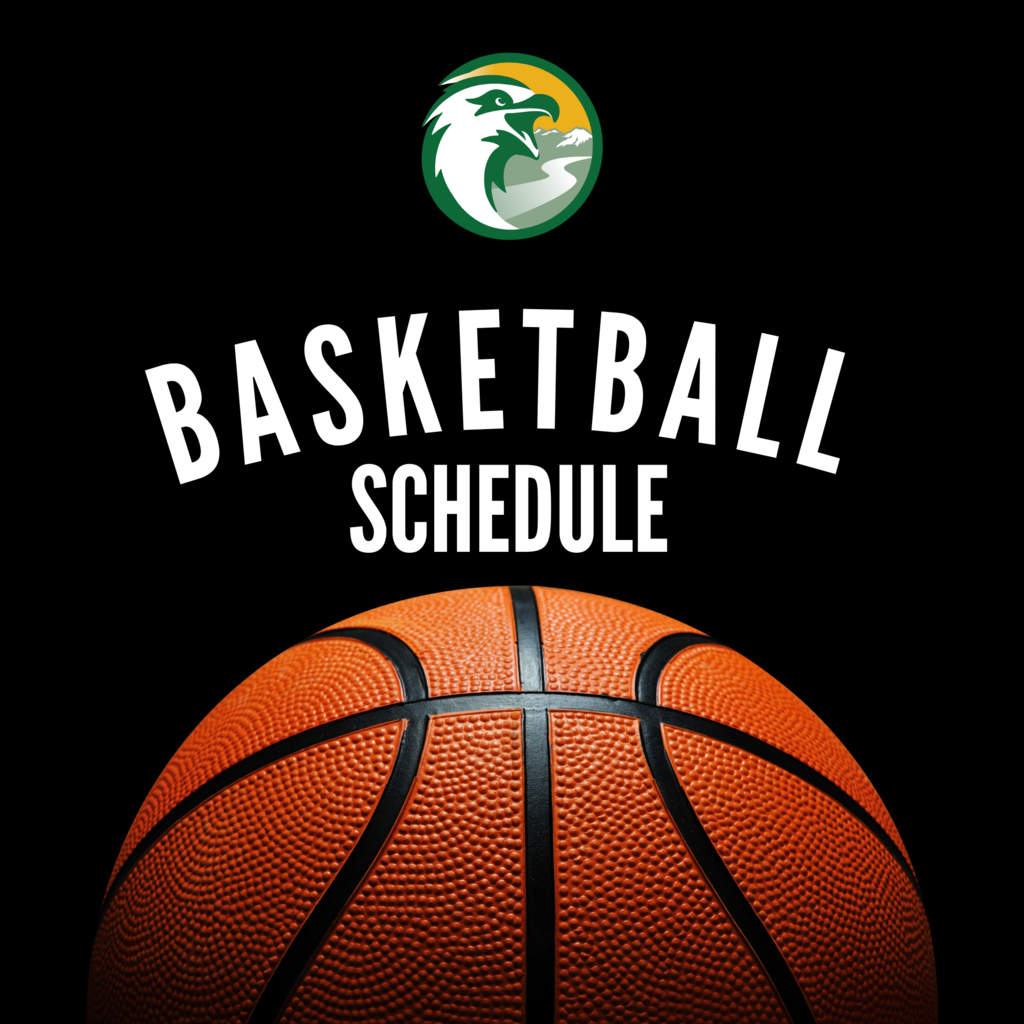 Hello McKenzie: Afternoon bussing update-We will have a COMBINED DOWN RIVER route this afternoon. There will be an activity bus this evening as usual. Tomorrow, Tuesday, 1/10/23 we will also have a COMBINED DOWN RIVER route. Please find times here if needed:
https://www.mckenziesd.org/page/transportation
(scroll down to Combined route) Thank you for your patience and assistance due to these changes.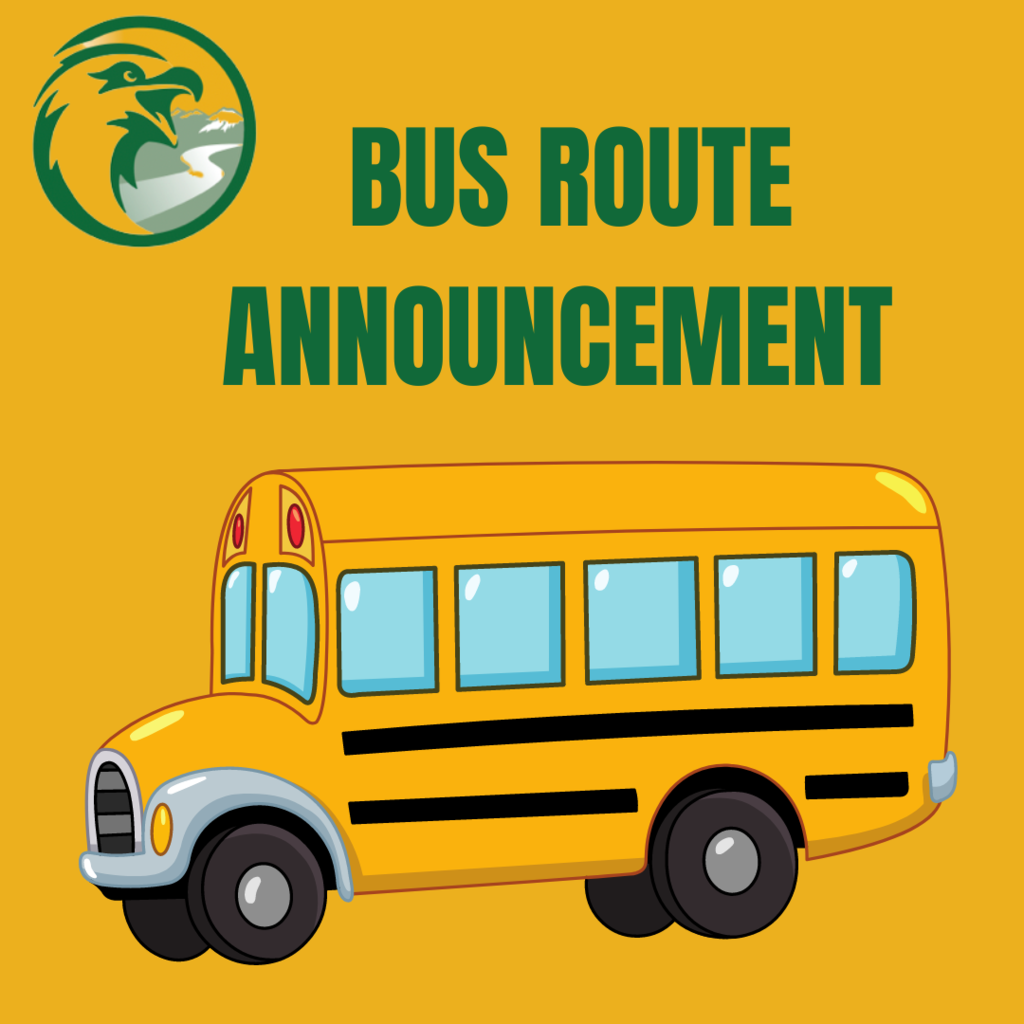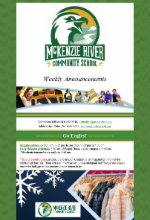 Good Morning, due to a bus issue as the bus was leaving, the DOWN RIVER ROUTES WILL BE COMBINED THIS MORNING. We will update you for this afternoon as soon as we know. Please go to our webpage to find time:
https://www.mckenziesd.org/page/transportation
We apologize for the inconvenience.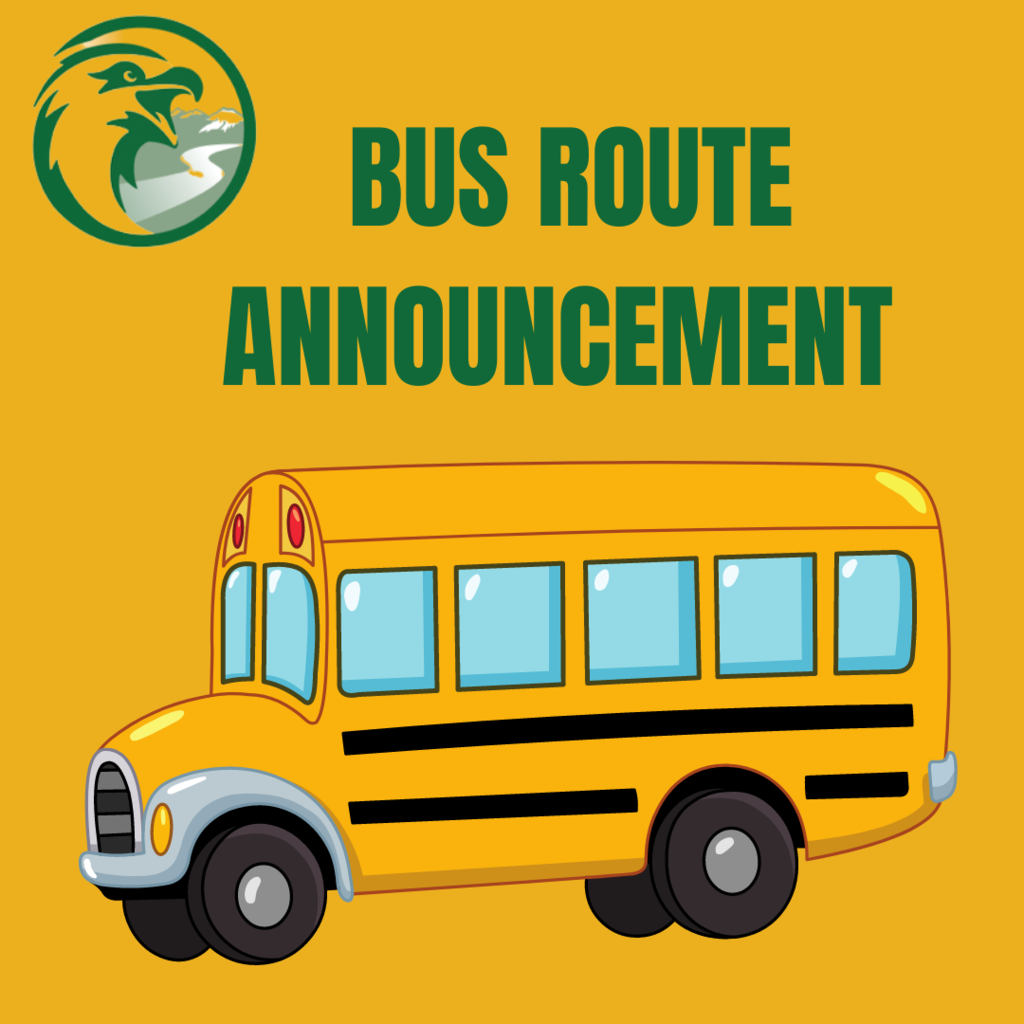 Are you and your family in need of some warm winter clothes? The Family Resource Center is holding a Winter Clothing & Coats event on Thursday, January 12th from 5-7pm. The Family Resource Center is located in the main hallway of the middle/high school building, just past the office on the left. Can't make it? Let us know your needs and sizes so we put aside some clothing and coats for you!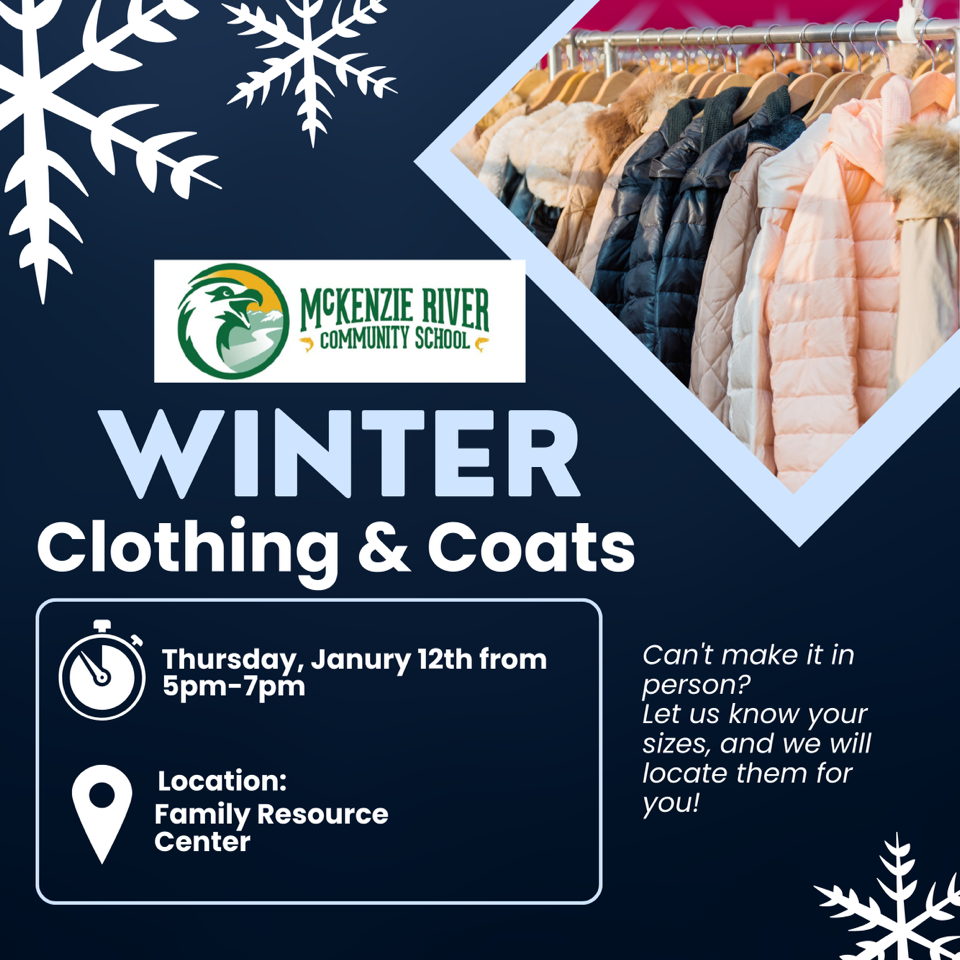 The McKenzie River Community School Yearbook is finally available for purchase. The Yearbook is a beautiful, full-color publication that captures all the memorable moments from the 2021-2022 school year. Produced by the dedicated yearbook class team. This yearbook is a must-have for any student, parent, or community member looking to relive the highlights of the school year. Order your copy of the McKenzie River Community School Yearbook today and join us in celebrating another successful year at our school.
https://www.blurb.com/b/11439457-mckenzie-river-community-school-yearbook-2021-202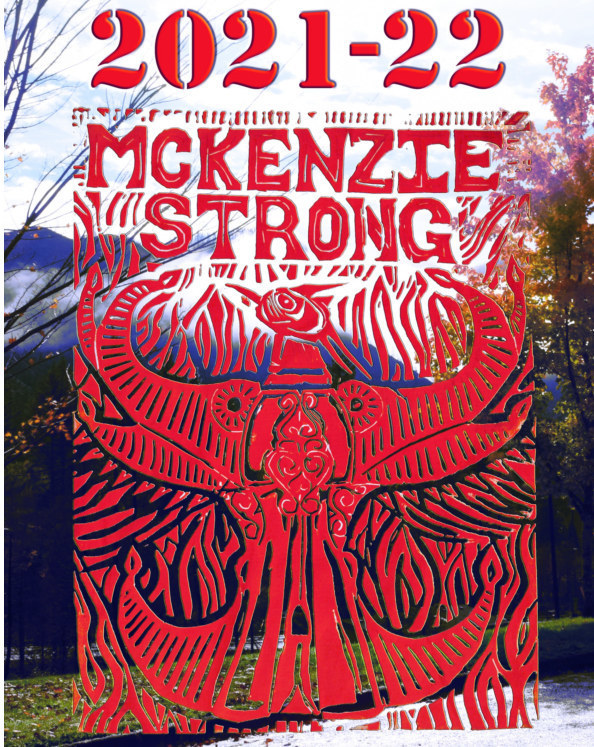 Updates and reminders for this week: -Today, Wednesday, 1/4/23 and tomorrow, Thursday, 1/5/23 the DOWNRIVER-AFTERNOON bus route will be combined. -This Friday, 1/6/23 is a school day with Early Release. -MS Basketball-Boys will play first @ 4pm for the remainder of the season.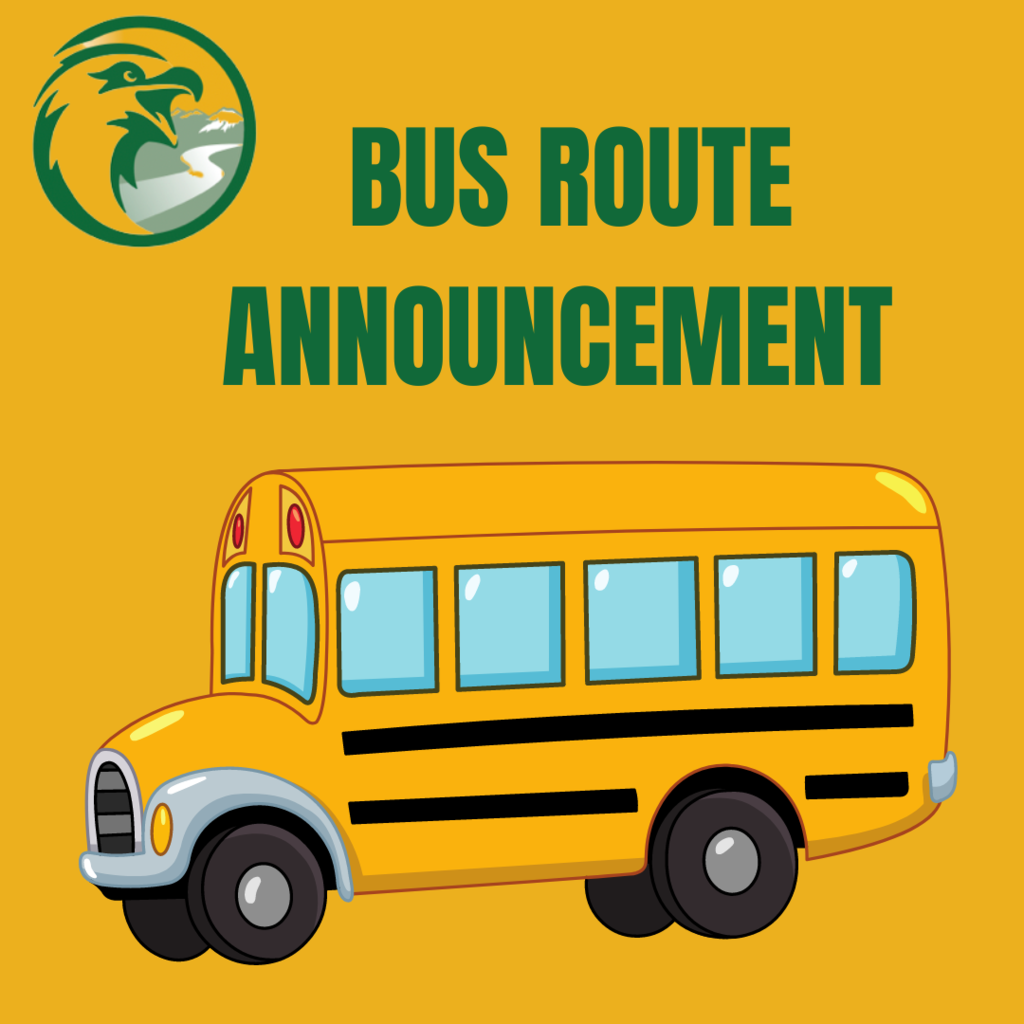 Welcome back Eagles! Happy 2023! Here is your week of sports: Tuesday 1/3 Practice for all basketball teams Wednesday 1/4 MSBB @ Crow dismiss at 1:30 leave at 1:45 HSBB vs Riddle - boys at 5:30pm, girls at 7:30 Thursday 1/5 HSBB @ Eddyville - boys at 5:30pm, girls at 730 dismissed at 1:45pm leave at 2pm Friday 1/6 Practice

The whole McKenzie School District wishes you a very Happy New Year! We can't wait to see you in the new year (Tuesday, January 3rd!) and hope you are as excited as we are to soar into the second half of the school year!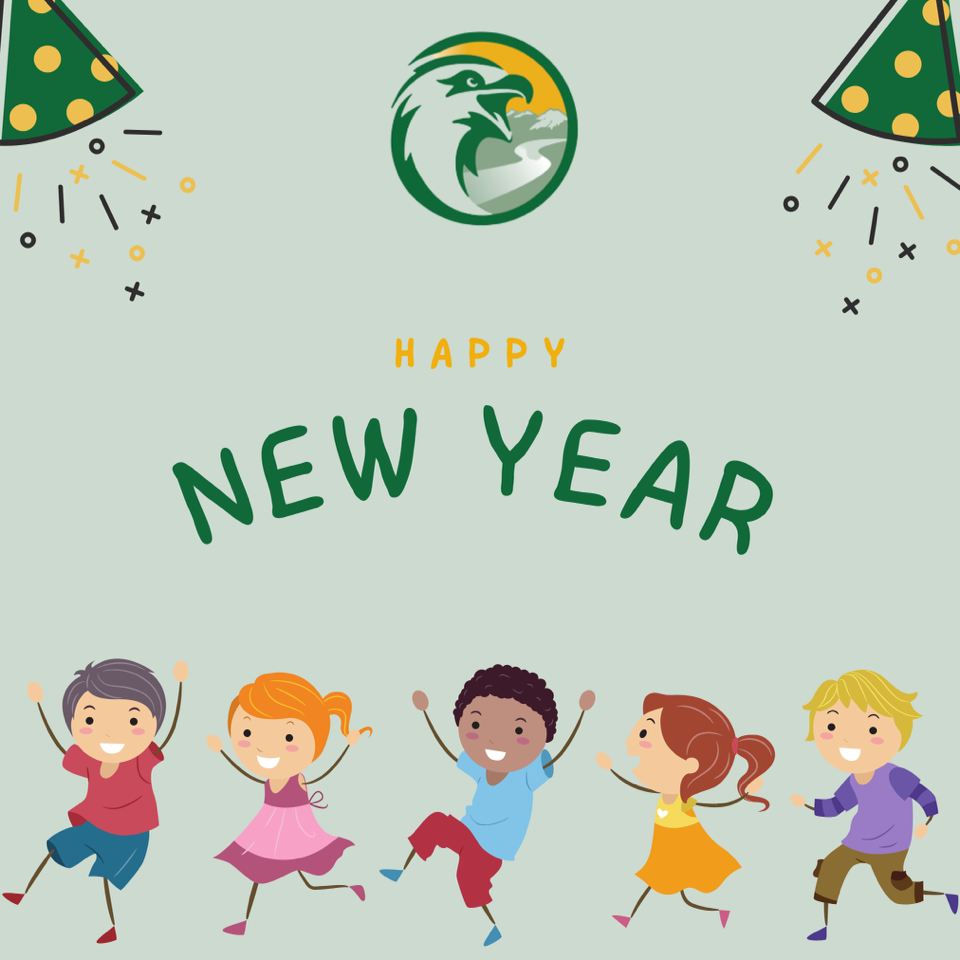 As you head into the winter break, we want to wish everyone a Happy Holiday Season. Here are some good wishes from a couple of our teachers and staff. Safe, and see you in 2023! Watch here now:
https://fb.watch/hr4dW7UBID/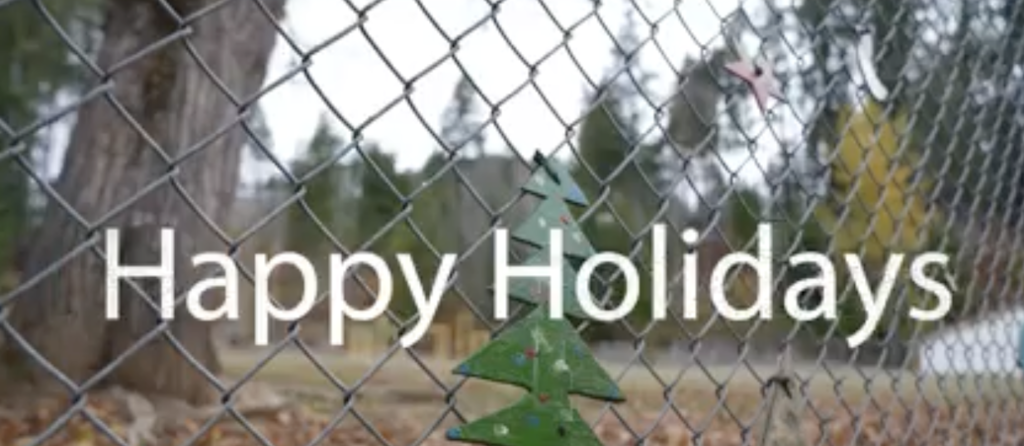 Hello McKenzie, A few friendly reminders! -Today is an Early Release school day, buses will leave campus at 3pm. -3rd/4th boys bb have practice @ 4:15pm. If your child is on the team and you have not called the elementary office to have them stay, they will be on the 3pm bus home. -HSBB games tonight. Boys @ 5:30 pm & Girls @ 7 pm -7th grade doing a fundraiser @ HS games: 50/50 raffle, bake sale & pop shots -Winter Break is 12/19/2022 through 1/2/2023. -We will return on 1/3/2023 and that Friday, 1/6/23, is an Early Release school day. Wishing you all a safe and happy winter break! Our 2nd graders worked so hard to raise salmon in their classrooms and were finally able to release them into the river! We love teaching our youth about the beauty of the McKenzie Valley and everything it offers our community.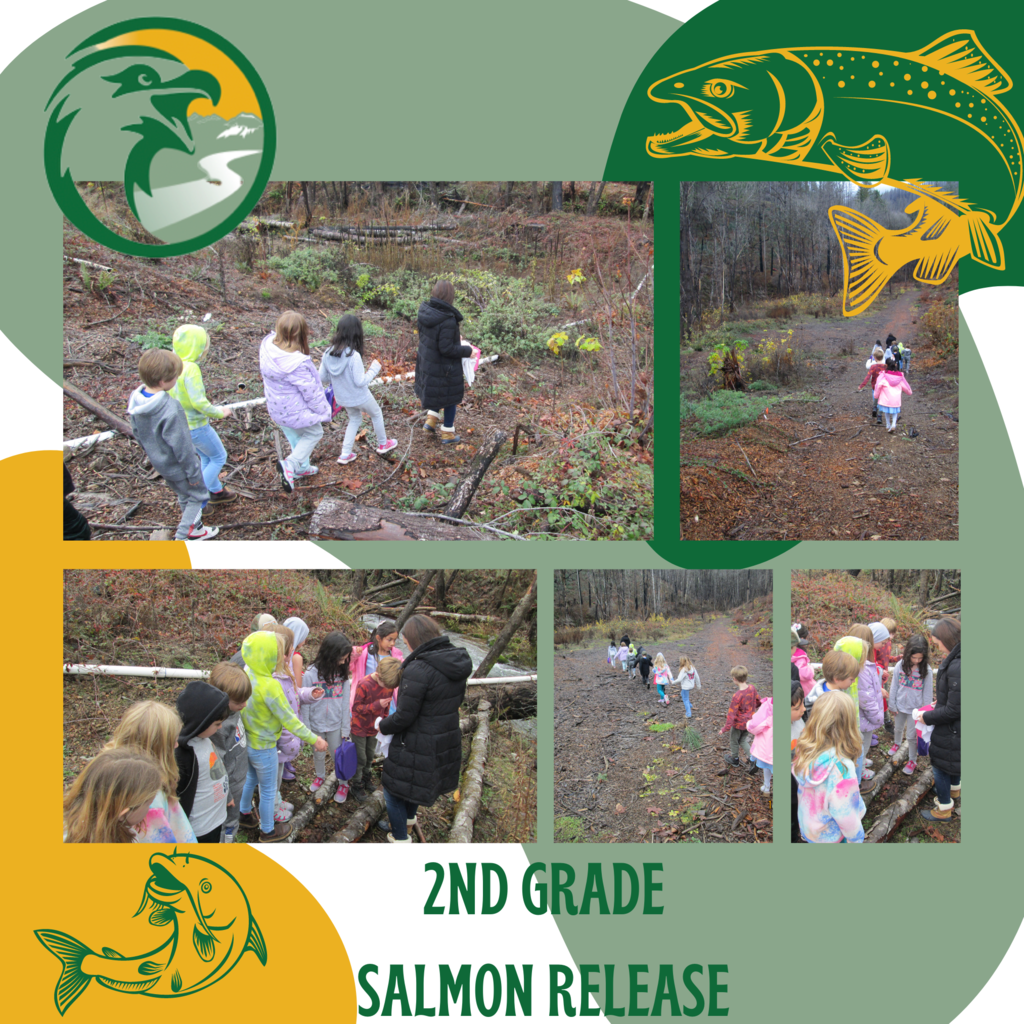 Check out this fun activity happening this Friday at our community partner, Takoda's Restaurant! "Bring your kids down to Takoda's in Rainbow to meet Santa! Friday, December 16, 2022 from 4:00 pm - 6:00 pm. Santa will be located by the Christmas tree for photos! Come join us for some Christmas fun and food. All are welcome. If you have any questions feel free to call Takoda's! They look forward to sharing the holiday with you! Takoda's in Rainbow (541) 822-1153"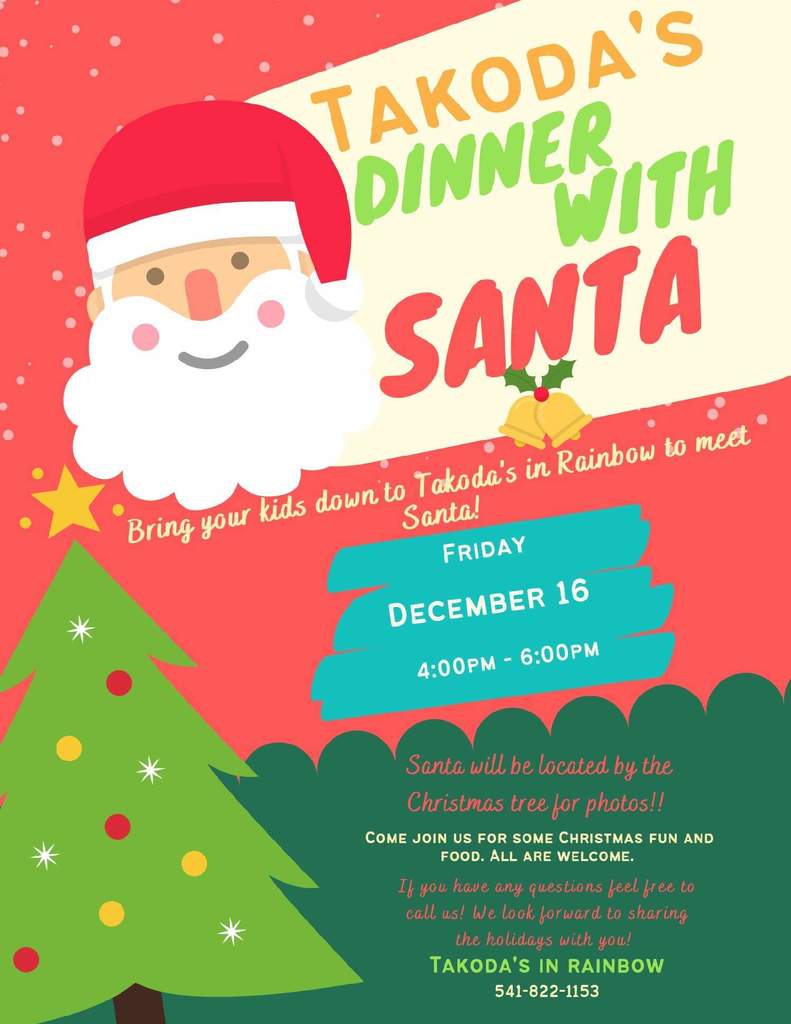 Lane County Public Health is hosting another COVID vaccination clinic on Monday from 1-3 p.m. It will be held in the Old Gym. Walk-Ins will be accepted.