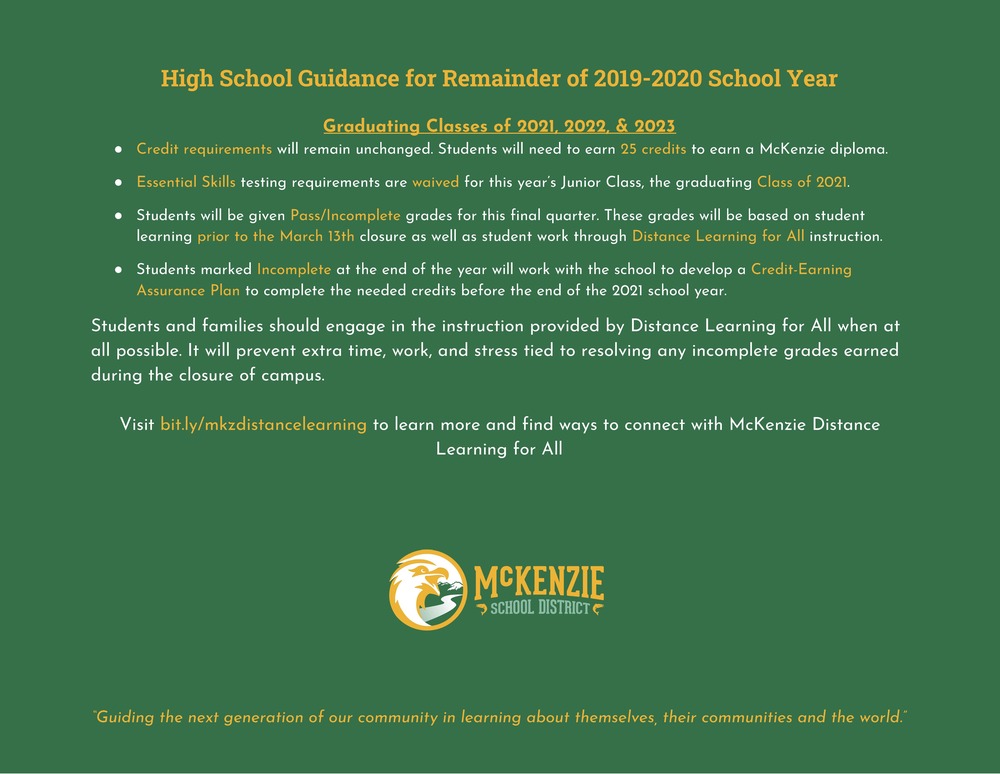 ODE Gives New Guidelines for Grades 9-11 for Remainder of School Year
Lane Tompkins
Friday, April 17, 2020
Wednesday night, the Oregon Department of Education released new guidelines for students grades 9-11 to help answer lingering questions around how best support these students during this closure as well as how to keep them on track to graduate. Below you'll find the key points of this guidance.
Here are the key takeaways:
Credit requirements will remain unchanged. Students will need to earn 25 credits to earn a McKenzie diploma.

Essential Skills testing requirements are waived for this year's Junior Class, the graduating Class of 2021.

Students will be given Pass/Incomplete grades for this final quarter. These grades will be based on student learning prior to the March 13th closure as well as student work through Distance Learning for All instruction.

Students marked Incomplete at the end of the year will work with the school to develop a plan to complete the needed credits before the end of the 2021 school year.
We encourage students and families to fully engage in the instruction provided by Distance Learning for All when at all possible. Doing so will prevent extra time, work, and stress tied to resolving any incomplete grades.
Thank you for your patience and flexibility as we work together in providing educational opportunities for students during these trying times.