News
Budget Hearing: 6/17/20 5:15 p.m.Regular Board Meeting 6/17/20 5:30 p.m.Information regarding joining and/or watching the meetings can be found on our Board Agenda page here.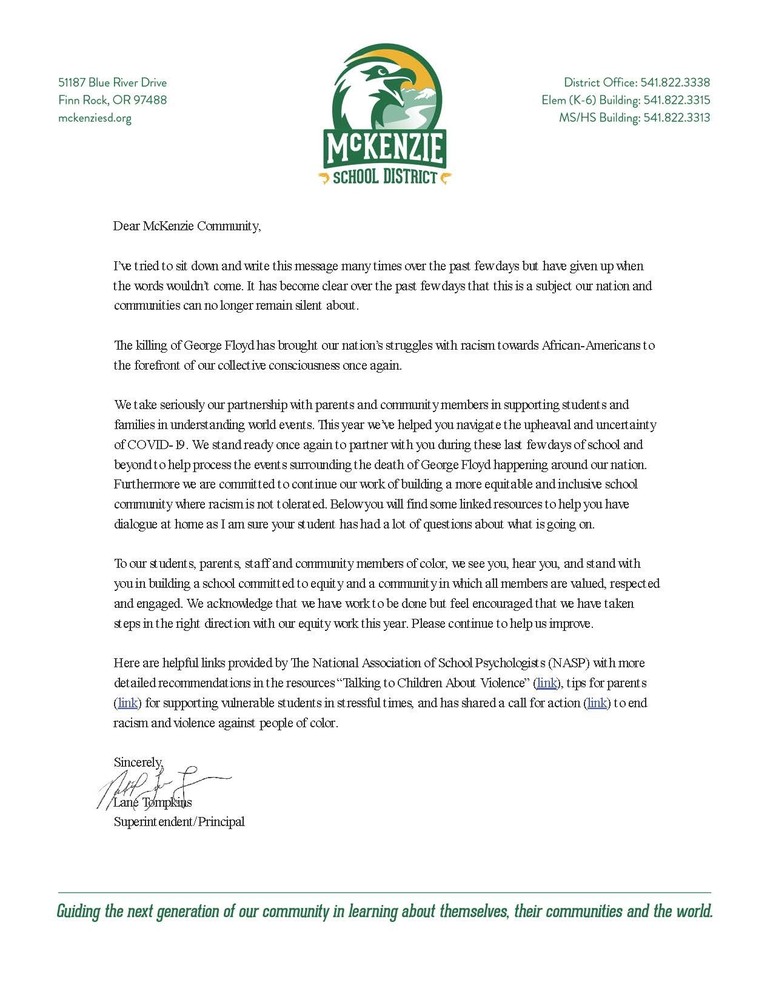 Dear McKenzie Community, I've tried to sit down and write this message many times over the past few days but have given up when the words wouldn't come. It has become...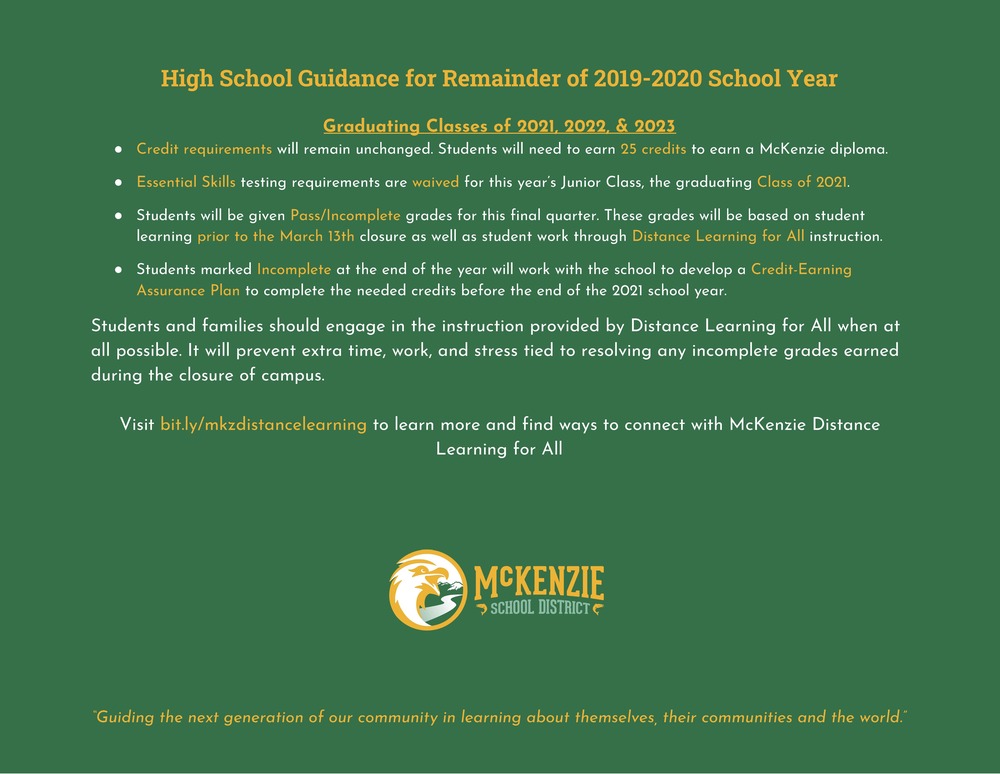 Wednesday night, the Oregon Department of Education released new guidelines for students grades 9-11 to help answer lingering questions around how best support these...
SEE ALL NEWS
LIVE FEED

District Office
21 days ago
Our graduation video is now posted to YouTube in case you missed it on Facebook. Follow the link below to view our celebration of the Class of 2020! https://www.youtube.com/watch?v=yvI1-b7wbBg

Lorinda Marcy
28 days ago
Hello McKenzie Families, we still have some items that need to be returned. If you were unable to take advantage of the drop off days. Please contact the elementary office at (541)822-3315 / email elemoffice@mckenziesd.org to make arrangements to get any school property returned.

Corey Christensen
about 1 month ago
https://youtu.be/8qjlZY1gEd8 We have a tradition at McKenzie to send our students into summer break with a can-can dance as they drive away on the last day of school. To keep the tradition alive, we've created a social distancing version. We hope you have a fun and safe summer break! We can't wait to see you again. Go Eagles!

Lorinda Marcy
about 1 month ago
We forgot to include a very important item in the list of returns. If you have a 𝙨𝙘𝙝𝙤𝙤𝙡 𝙡𝙤𝙖𝙣𝙚𝙙 𝙗𝙖𝙣𝙙 𝙞𝙣𝙨𝙩𝙧𝙪𝙢𝙚𝙣𝙩, please return it during our return times. Return times are 𝙩𝙤𝙙𝙖𝙮, 𝙏𝙪𝙚𝙨𝙙𝙖𝙮, 𝙖𝙣𝙙 𝙩𝙤𝙢𝙤𝙧𝙧𝙤𝙬, 𝙒𝙚𝙙𝙣𝙚𝙨𝙙𝙖𝙮, 𝙛𝙧𝙤𝙢 10 𝙖𝙢 𝙩𝙤 3 𝙥𝙢 both days. 𝙋𝙡𝙚𝙖𝙨𝙚 𝙧𝙚𝙩𝙪𝙧𝙣 𝙖𝙣𝙮𝙩𝙝𝙞𝙣𝙜 𝙩𝙝𝙖𝙩 𝙨𝙝𝙤𝙪𝙡𝙙 𝙗𝙚 𝙧𝙚𝙩𝙪𝙧𝙣𝙚𝙙 𝙩𝙤 𝙩𝙝𝙚 𝙨𝙘𝙝𝙤𝙤𝙡 𝙙𝙪𝙧𝙞𝙣𝙜 𝙩𝙝𝙞𝙨 𝙩𝙞𝙢𝙚, 𝙨𝙪𝙘𝙝 𝙖𝙨 𝙡𝙞𝙗𝙧𝙖𝙧𝙮 𝙗𝙤𝙤𝙠𝙨, 𝙘𝙝𝙖𝙥𝙩𝙚𝙧 𝙗𝙤𝙤𝙠𝙨, 𝙩𝙚𝙭𝙩𝙗𝙤𝙤𝙠𝙨, 𝙨𝙘𝙝𝙤𝙤𝙡 𝙡𝙤𝙖𝙣𝙚𝙙 𝙗𝙖𝙣𝙙 𝙞𝙣𝙨𝙩𝙧𝙪𝙢𝙚𝙣𝙩𝙨, 𝙢𝙖𝙩𝙝 𝙢𝙖𝙣𝙞𝙥𝙪𝙡𝙖𝙩𝙞𝙫𝙚𝙨 (𝙘𝙤𝙪𝙣𝙩𝙞𝙣𝙜 𝙗𝙡𝙤𝙘𝙠𝙨, 𝙚𝙩𝙘.), 𝙖𝙣𝙙 𝘾𝙝𝙧𝙤𝙢𝙚𝙗𝙤𝙤𝙠𝙨 𝙬𝙞𝙩𝙝 𝙘𝙤𝙧𝙙𝙨. We will be returning items to the homework room, drive around the backside of the school where the buses drop off students, this is the same area that pick up was done. Please follow social distancing by staying in your vehicle until it is your turn at the window to return your items. See you soon! If you are unable to utilize one of these times, please reach out to either office by phone or email: Elementary (541)822-3315 elemoffice@mckenziesd.org or MS/HS (541)822-3313 hsoffice@mckenziesd.org . 𝙋.𝙎. 𝙒𝙚 𝙖𝙡𝙨𝙤 𝙝𝙖𝙫𝙚 𝙡𝙤𝙨𝙩 𝙖𝙣𝙙 𝙛𝙤𝙪𝙣𝙙 𝙞𝙩𝙚𝙢𝙨 𝙖𝙣𝙙 𝙞𝙩𝙚𝙢𝙨 𝙛𝙧𝙤𝙢 𝙩𝙝𝙚 𝙋𝙀 𝙡𝙤𝙘𝙠𝙚𝙧 𝙧𝙤𝙤𝙢 𝙖𝙫𝙖𝙞𝙡𝙖𝙗𝙡𝙚 𝙛𝙤𝙧 𝙥𝙞𝙘𝙠-𝙪𝙥. https://drive.google.com/open?id=1OnhBIwAMHiuBIugjN5UYzJew9lYVCndB

Lorinda Marcy
about 1 month ago
From our community partner: The McKenzie River Food Bank is open today June 9, 2020 from 3 PM to 6PM. 𝐒𝐭𝐚𝐫𝐭𝐢𝐧𝐠 𝐭𝐨𝐝𝐚𝐲 we will also have the 𝐒𝐮𝐦𝐦𝐞𝐫 𝐅𝐨𝐨𝐝 𝐏𝐫𝐨𝐠𝐫𝐚𝐦: This is lunches for children ages 1 through 18. You can pick them up at the Food Pantry today for the next 2 weeks. 𝐘𝐨𝐮 𝐝𝐨 𝐧𝐨𝐭 𝐡𝐚𝐯𝐞 𝐭𝐨 𝐛𝐞 𝐚 𝐫𝐞𝐠𝐮𝐥𝐚𝐫 𝐩𝐚𝐧𝐭𝐫𝐲 𝐜𝐥𝐢𝐞𝐧𝐭 𝐭𝐨 𝐮𝐬𝐞 𝐭𝐡𝐢𝐬 𝐫𝐞𝐬𝐨𝐮𝐫𝐜𝐞, 𝐣𝐮𝐬𝐭 𝐬𝐡𝐨𝐰 𝐮𝐩 𝐚𝐧𝐝 𝐲𝐨𝐮 𝐰𝐢𝐥𝐥 𝐠𝐞𝐭 𝐟𝐨𝐨𝐝. Our volunteers will shop for you and bring you your boxes. We are also asking that you stagger your arrival times as follows: 3 pm - 4 pm A - H, 4 pm - 5 pm I - P, 5 pm - 6 pm Q – Z. Please come join us. We have no plans to close. We will be 𝐨𝐩𝐞𝐧 𝐭𝐡𝐞 𝟐𝐧𝐝 𝐚𝐧𝐝 𝟒𝐭𝐡 𝐓𝐮𝐞𝐬𝐝𝐚𝐲 𝐨𝐟 𝐞𝐯𝐞𝐫𝐲 𝐦𝐨𝐧𝐭𝐡. Thanks, Sue O'Brien Manager McKenzie River Food Pantry
SEE ALL POSTS