EDIT MAIN
06/02/2020
Oregon is the recipient of a grant to provide funds to children experiencing food insecurity during this Pandemic. The Oregon Department of Education Child Nutrition Programs is supporting The Pandemic Electronic Benefits Transfer (P-EBT) program by collecting data from schools. If your child is eligible, you will be contacted shortly by DHS. Instructions will be included to activate or refuse benefits.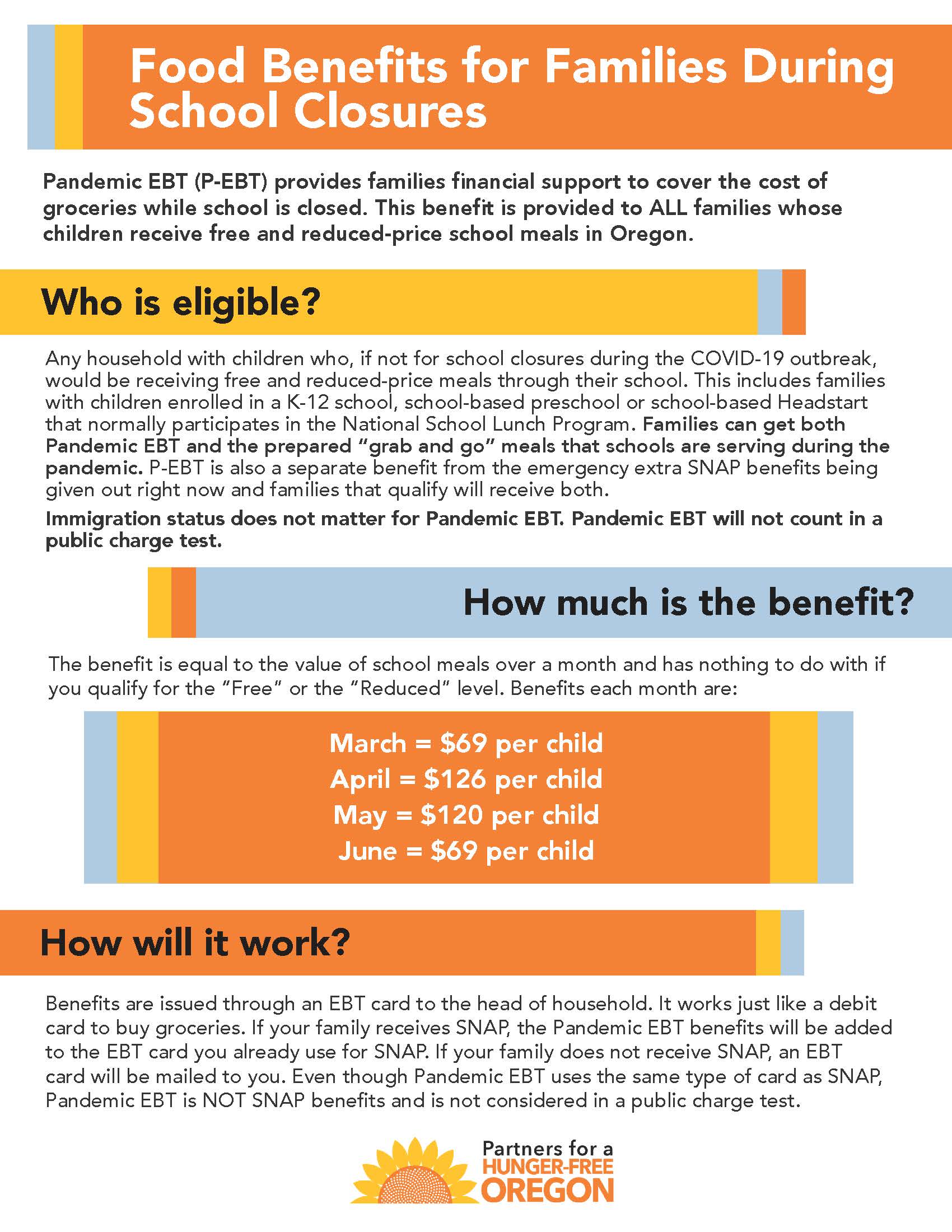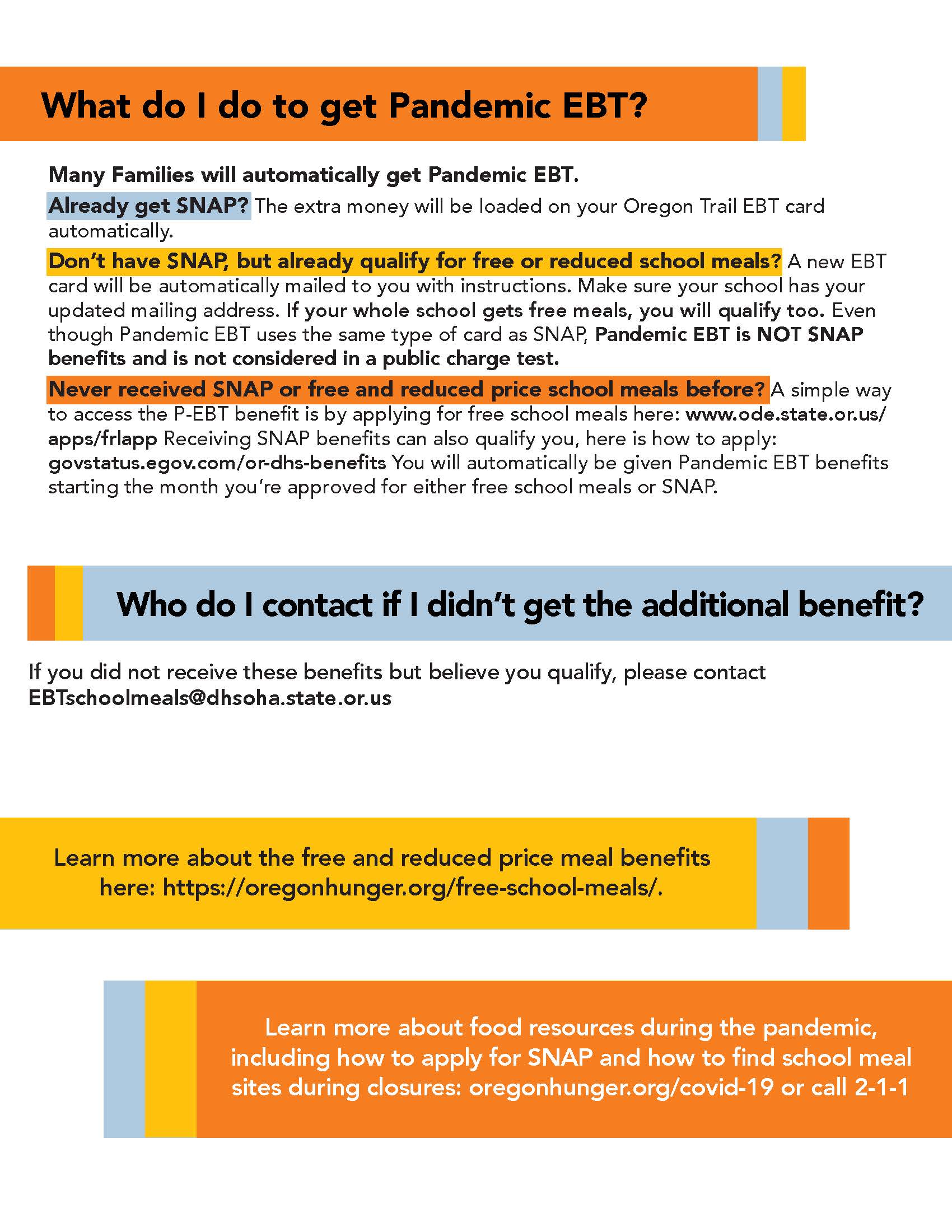 3/14/2020
Dear McKenzie Community,
As we shared yesterday, this past Thursday, Governor Brown ordered all Oregon schools to close March 16th through March 31st. Guidance states that these days are to be treated like inclement weather days.
We will be providing breakfast and lunch to students beginning this Monday, 3/16/2020, through Thursday, 3/19/2020. We will also be serving meals on Monday, 3/30/2020 and Tuesday, 3/31/2020. Meals will be delivered along bus routes at regular stops. Busses will be operating on a 2 hour delay schedule for morning routes. If your normal pick up is at 6:35 am, meal drop off will be at 8:35 am.
We sent a prior communication this morning with a survey link to gauge community interest in receiving meals for you student(s). Please complete the survey as it will give us valuable information to assist in our planning and preparation. You can also find the link here:
https://forms.gle/gH5bFqKH8UvA1mdx6
The safety and well being of our students is our highest priority. During the closure we will be deep cleaning the buildings as a precaution.
We are planning to resume school on Wednesday, April 1, 2020. At this time we plan that this learning will occur on campus. We will keep you updated on any future changes to this guidance that may prompt us to implement a distance education model- a potential scenario that we have been preparing for.
These are uncharted waters for all of us. Thank you all for being supportive of our students, each other, and our community during this time.
Dear McKenzie Families,
With the number of confirmed coronavirus COVID-19 cases in Oregon increasing, Governor Kate Brown announced new guidance regarding gatherings and social distancing. We remain committed to keeping our school open and safe.
In accordance with the Governor's guidance and in order to minimize potential opportunities for the virus to spread, we will be suspending events that bring larger groups of students, adults, and community members together. At this time, there are no cases identified at McKenzie or in Lane County.
Suspension of non-essential school-based activities begins immediately, effective Thursday, March 12, and will remain in effect for 30 days. This includes the suspension of all school based assemblies and events, off-campus field trips, athletic events and practices, and may include professional development and other events.
The safety, health and well-being of our students and staff is our priority. We will continue to work in close partnership with public health authorities to minimize both the spread of coronavirus and disruption to schools and students. We will continue emphasizing the importance of handwashing at school. Our custodians will continue to prioritize high-touch surfaces in classrooms and common areas, and make sure schools have adequate handwashing and cleaning supplies.
Students, families and everyone in our community can best support our efforts by washing hands frequently, covering mouths when coughing or sneezing, and using hand sanitizer. Those experiencing fever and/or flu or cold symptoms should stay at home, only returning to school or work when symptom-free for 24 hours without the use of medicine. If you are concerned about symptoms, please consult your healthcare provider.
Thank you for your cooperation and understanding during this challenging time. We will continue to rely on the guidance of Oregon public health authorities, the Department of Education, and the Office of the Governor. This is a fluid situation, and circumstances may change over the course of the next several days. Please know that this message and the decisions being made at this time are being done in collaboration with many of the districts in Lane County. We appreciate their partnership. Know we all collectively share the utmost concern for the health and safety of our students, employees, and communities.
We will provide you with updates and information on our district website as we learn more: www.mckenziesd.org
Lane County Public Health
Oregon Health Authority
Centers for Disease Control
Dear McKenzie Families,
Many of you are following the news of the COVID-19 virus (Coronavirus) that has appeared in Oregon. You can review statewide tracking here. The Centers for Disease Control, the Oregon Health Authority and Lane County Public Health consider the risk to most Oregonians to be low.
Know that McKenzie School District is in contact with state and local officials monitoring the situation and are following their guidance as well as planning potential impacts of an outbreak in our area. School health services staff as well as our custodial/maintenance team have met and reviewed available guidance and best practices in ensuring a clean and safe environment.
Currently, McKenzie has no plans to close school. Know that if public health authorities recommend a closure we will do so and communicate with families as soon as possible. This will include phone calls, text messages, emails, social media, notifications on the school app as well as television and radio. If you have recently changed your contact info, please contact the school offices and make sure we have your updated information.
What you can do: If your child is sick, please keep them home and notify the school. Public health officials recommend taking the following precautions to stay healthy and prevent the spread of respiratory illnesses including coronavirus:
Stay home when you are sick.
Cover your coughs and sneezes with a tissue and then throw it in the trash.
Wash your hands often with soap and water for at least 20 seconds. If that's not readily available, use a hand sanitizer that contains at least 60% alcohol.
Avoid touching your eyes, nose and mouth with unwashed hands.
Sanitize frequently touched objects and surfaces with a cleaning wipe or spray.
Avoid close contact with people who are sick.
Take care of your health overall. Staying current on your vaccinations, including flu vaccine, eating well, and exercising all help your body stay resilient.
If you plan to travel outside of the U.S., consult CDC's travel website for any travel advisories and steps to protect yourself.
In the face of rumors, check a reliable information source such as www.oregon.gov/oha.
Finally, the novel coronavirus started spreading in China, and there have been some reports around the state about bullying and discrimination against Asians and Asian-Americans. We ask that you and your family be mindful that bullying of students based on race, color, national origin, or disability is unacceptable in our school district.
We will provide you with updates and information on our district website as we learn more: www.mckenziesd.org
Please find linked below reliable information regarding COVID-19
State of Oregon COVID-19 Resources
Oregon Health Authority Fact Sheet https://sharedsystems.dhsoha.state.or.us/DHSForms/Served/le2356.pdf
Oregon Health Authority COVID19 Learn the Facts Video
Oregon Health Authority Understanding COVID19 Video